Open Newbury Returns July 8 with Offers, Gifts, and Games
Newbury Street businesses are once again rolling out the red carpet in celebration of Open Newbury, when the street will close to cars and become pedestrian promenade.  Stroll down the middle of the street and enjoy refreshments, gifts with purchase, family friendly games and activities, and much more from your favorite Newbury Street businesses.
Here are Boston Back Bay's picks of Open Newbury offers and events.
Taj Boston
15 Arlington Street
To celebrate the continuing tradition of Open Newbury, the talented team at Taj Boston has crafted a sophisticated and stylish cocktail that will be available during Afternoon Tea on Sunday, July 8. The Newbury is comprised of Taj Gin, Rose Lillet, Taj rooftop honey and iced hibiscus tea with a dash of lime juice. The refreshing cocktail is served in a wine glass and garnished with an orange wheel and berries. The Newbury is available in the French and Adam Lounge for Afternoon Tea, the perfect location to watch all the action of Open Newbury. 12:30 p.m. to 3:30 p.m.
Salon Mario Russo
9 Newbury Street
Salon Mario Russo is staying open for Open Newbury!  Stroll in style after getting pampered with a blow out, cut and color, or hair texture treatment!
Vince
71 Newbury Street
Meet the Nutcracker Bear and enter to win tickets to Boston Ballet's The Nutcracker at Vince! Face painting will also be available from 12-3, as well as Nutcracker madlibs and other surprises — and don't forget to stop and snap your Open Newbury Insta in front of the snowflake backdrop!
Athleta
88 Newbury Street
From 10 -11 am, Athleta will be offering a HIITDANCE class in the street in partnership with Healthworks Back Bay, a women-only fitness center with innovative classes, Boston's best personal trainers, and luxe facilities with a spa-like locker room featuring luxury products, steam room, sauna and whirlpool..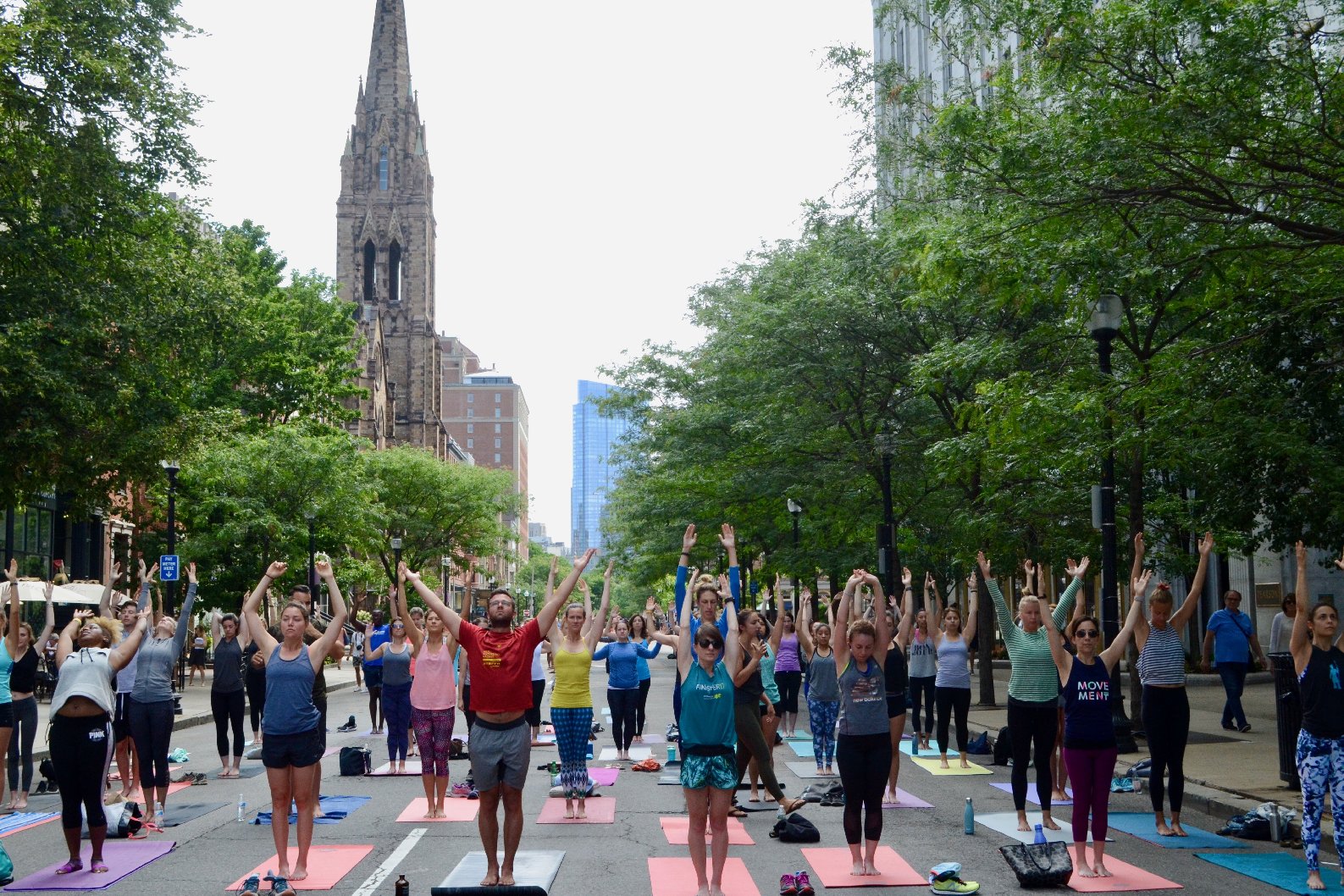 Athleta Yoga Class at Open Newbury 2017 PC: NewburyStBoston.com
Alton Lane
91 Newbury Street
Check out Alton Lane's bespoke styles for every gentleman during Open Newbury!  From suiting and accessories to dapper wedding wear, Alton Lane's showroom (complete with a bar!) is a one-stop shop.
Tea Forte
91 Newbury Street
Sample Tea Forte's luxe teas during Open Newbury!  This Concord-based fine tea purveyor offers flavorful teas in gorgeous packaging for an exceptional tea experience, perfect for gifting or for your own collection.
New England Historical Genealogical Society
99-101 Newbury Street
Where do you come from?  Stop by the NEHGS table at Open Newbury to learn more about their database and research experts, which can help you discover your heritage, as well as their lineage groups, connecting you with other genealogy enthusiasts from similar backgrounds.
SEE Eyewear
115 Newbury Street
New glasses, who dis?  Get yours at Open Newbury and receive a gift with your purchase!
Faherty Brand
115 Newbury Street
Unique, sustainable fabrics, eye-catching patterns, and designs for life's great moments, the ones spent by the water, around a bonfire, catching waves or watching sunrisesShop the ultimate summer and swim wear for the whole family at Faherty Brand and spin the prize wheel to receive your gift with purchase!
Donnelly + Co.
115 Newbury Street
Learn more about Donnelly + Co.'s better approach to Boston real estate at their Open Newbury table.
Winston Flowers
131 Newbury Street
Stop by Winston Flowers' interactive planting table to choose from a variety of herbs in your choice of container and have Winston's expert staff help you with the planting.
                             Photo Credit: Copley Society of Art
Copley Society of Art
158 Newbury Street
Bring your littles to Copley Society of Art for special art projects for kids and artist demos for the adults.
Joe's American Bar & Grill
181 Newbury Street
Grab a beer and a bowl of chowder (or salad, sandwich, steak, brunch item…) and enjoy Joe's extended outdoor dining, right on the street.  And don't miss DownEast Cider tastings for the adults and Joe's has a kids' zone with face painting and games for the tykes.
Stephanie's on Newbury
190 Newbury Street
Stephanie's patio is the place to be for brunch on any Sunday, but during Open Newbury, it's the best people watching spot on the street! Stop by for a brunch cocktail and a signature dish before you stroll and shop!
Kitchenwares by Blackstones
215 Newbury Street
Shop for a cause during Open Newbury as KitchenWares works with Women's Lunch Place (67 Newbury Street) and Bittersweet Homestead Lemonade in order to raise awareness of the needs of women who experience poverty and homelessness. 10% of proceeds on 7/8 will be donated to Women's Lunch Place. Also offering one free professional knife sharpening (same day) with any purchase, honing & knife sharpening demos, and a gift with the purchase of any knife.
Dirty Water Dough Company
222 Newbury Street
Stop by for a slice of pizza and music from some of Boston's finest DJ's, curated by Boats & Friends
Daniel Wellington
228 Newbury Street
Come to Daniel Wellington's outdoor hang out for some refreshments, games, and fun! Additionally receive a free strap with the purchase of a watch!
Wired Puppy
250 Newbury Street
Serving cold brew and iced tea at their sidewalk seating, along with select pastries and bags of whole bean coffee. Samples will be available upon request.
Patisserie on Newbury
257 Newbury Street
Enjoy Patisserie on Newbury's delicious treats while people watching on their patio.
Newbury Guest House
261 Newbury Street
Enjoy high-top seating right on Newbury and sweet treats for sale.
Itadaki
267 Newbury Street
Outdoor cafe seating, shaved ice stand
Cafeteria Boston
279a Newbury Street
Offering a special BBQ-centric menu with a DJ and games.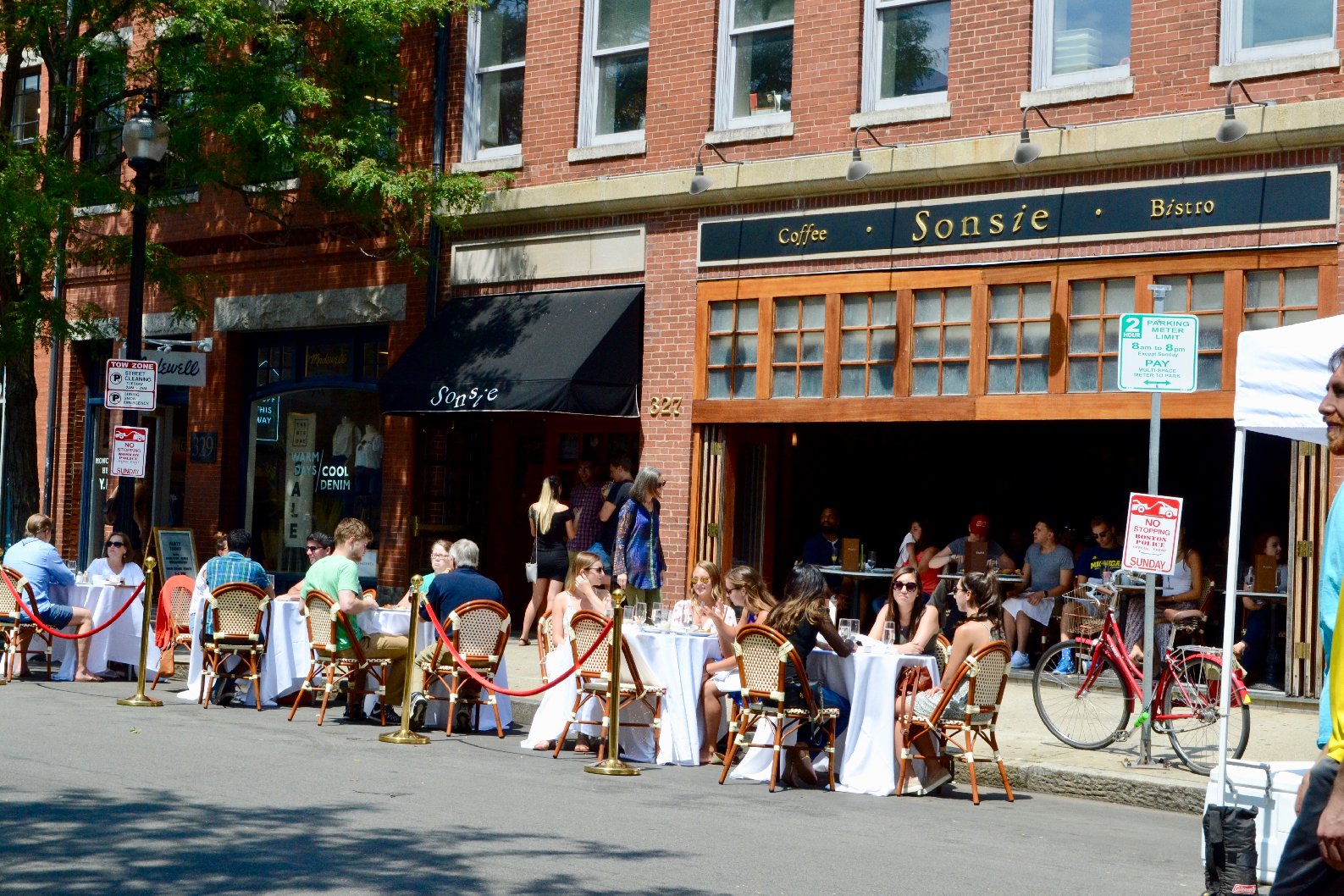 PC: NewburyStBoston.com
Sonsie
327 Newbury Street
Enjoy extended outdoor, street seating as well as the $5 drink of the month, Frosé!
Bauer Wines & Spirits
330 Newbury Street
For one day only, receive 20% off your purchase of $50 or more!
For a full list of Open Newbury offers and festivities, please visit our sister site, NewburyStBoston.com.