When:
June 5, 2019 @ 6:00 pm – 9:00 pm
2019-06-05T18:00:00-04:00
2019-06-05T21:00:00-04:00
Where:
Post 390
406 Stuart Street Boston
MA
Join Post 390 for their "Farm to Post" Summer Seafood Kick Off Dinner.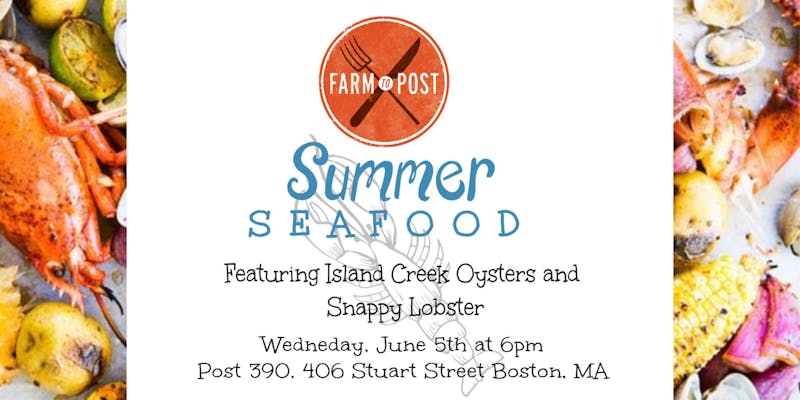 Enjoy oysters, lobsters and more from our friends at Island Creek Oysters of Duxbury Bay and Snappy Lobster of Scituate. Cocktail hour starts at 6pm with their live action oyster bar. Then, continue to dinner for their take on the classic New England clambake!
Tickets are $55.00 and include a welcome reception, clambake and beverage pairings. Tax and gratuity are included. Limited tickets available.
About Farm to Post: 
Our Farm to Post menu, offered nightly and changing seasonally, celebrates New England's food system innovators with next level farm-to-table dishes showcasing the region's finest and freshest ingredients and the inspiring people behind them.
Menu
Island Creek Oyster Display
raw duxbury oysters dressed with wild allium blooms, pink peppercorn & champagne
Fried Whole-Belly Clams
sorrel, charred lemon aioli, braised rhubarb
Maine-Caught Ocean Perch Crudo
pickled green strawberries, carrot mousse, charcoal sea salt, honey-wheat cracker
First Course
Wild Ramp & New Potato Chowder
crispy-fried skate wing, seared scallops, grilled maple-bacon, pea tendrils
Entrée
New England Clambake
seaweed-steamed whole lobsters, clams, mussels, jonah crabs & whelks, grilled chorizo-stuffed squid, lemon-garlic scup, & smoked portuguese sausages
Wilted Stinging Nettles, Fresh Cheese
Charred Green-Garlic Marinated Asparagus
Drawn Sea Urchin Butter
Dessert
Strawberry Olive Oil Shortbread
local strawberries, olive oil spine cake, sweet cream ice cream