Apr
25
Wed
Burgers & Burgundy at the Bristol
Apr 25 @ 5:00 pm – 10:30 pm
The Bristol Restaurant & Bar makes Hump Day the best day of the week with their Burgers & Burgundy. Every Wednesday night, burger lovers can enjoy the object of their gastronomic desire paired with tastings of two Burgundian-style wines. It's a tasty little opportunity to try something new as the paired wines, chosen by the in-house wine director, will be from bottles that aren't regularly available by the glass. Burgers & Burgundy costs $35 per person not including tax or gratuity – the burger itself is on the menu (augmented, as it is, with Vermont cheddar, house-made pickles and truffle fries) for twenty bucks so it's not a bad deal. Call The Bristol at 617.351.2053 for more information.
Mar
14
Sat
Shamrock Showdown Bar Crawl – Back Bay vs Downtown
Mar 14 @ 10:00 am – 8:00 pm
The "Shamrock Showdown" is the city of Boston's Ultimate St Patrick's Day Weekend Bar Crawl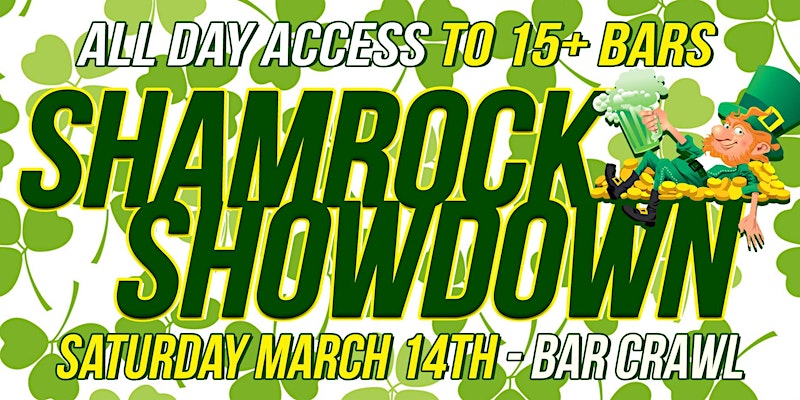 Join thousands of Shamrock themed crawlers as they take over the bars of Back Bay and Downtown on Saturday March 14th.
With over 20+ bars participating around Boston, this is sure to be the biggest bar crawl you have ever seen! 
CHECK IN and grab your SHAMROCK SHOWDOWN bracelet at 1 of 2 locations:
KINGS – 50 Dalton St.




Back Bay Check In




10am to 4pm




SCHOLARS PUB – 25 School St.

Downtown Check In




12:30pm to 4pm




Shamrock Showdown Crawl Stops:
All stops are FREE to enter with our special bracelet. If you do not have the exclusive SHAMROCK SHOWDOWN bracelet you could be charged a cover and or admitted.
Keep in mind the most important times are the "Check In" times for Kings and Scholars Pub. The other times listed below for the various venues are just suggested stop times.
All venues must adhere to their legal capacities and will only let in as many customers as they can legally hold. If a venue is at capacity you have the choice of waiting to get in, or move onto another venue.
BACK BAY BARS
• Back Bay Social – Noon to 8pm
• Dillions – 11am to 6pm
• Kings Back Bay – 10am to 8pm – FREE Bowling, Arcade, and Karaoke 10am to 4pm
• LIR – 10am to 8pm
• McGreevey's – 10am to 8pm
For more about this event, please click here.