Feb
28
Wed
Boston Forecast: Future Growth & Opportunity hosted by SERV
Feb 28 @ 8:45 am – 11:00 am
Join SERV for a Breakfast and Panel Discussion 
We're excited to announce our seventh seminar in a series of speaker and networking events for private events managers! Join us on February 28th at Grill 23 for breakfast and a discussion. The focus of this discussion will be on local urban development, upcoming conventions, future corporate neighbors, overall trends to expect and how this will affect our events industry as we know it.
PANEL SPEAKERS INCLUDE:
Jeffrey Gates-Partner, The Aquitaine Group: Aquitaine, Gaslight, Metropolis, Cinquecento
Chris Coombs-Chef / Owner, Boston Urban Hospitality: Deuxave | Boston Chops | dbar
Bob Luz-President & CEO, Massachusetts Restaurant Association
Lisa Deveney-Director of Convention Services, Greater Boston Convention and Visitors Bureau
Rosemarie Sansone-President & CEO, The Downtown Boston Business Improvement District (BID)
SCHEDULE:
8:45am – 9:30am – breakfast and networking
9:30am – 10:30am – panelist discussion
10:30am – 11:00am – Q+A
SERV (Society for Event Planners: Restaurant Venues) is anorganization of private event managers who provide support and education to industry professionals. The quarterly speaker series includes a panel and networking opportunities over light breakfast. The panel discussions span a wide variety of topics from business and professional development to event technology, vendor relations and marketing, all pertaining to the private events industry with a focus on restaurant venues.Currently, SERV chapters exist in Boston and New York.

Jul
25
Wed
Comedy Party at Cafeteria Boston
Jul 25 @ 8:00 pm – 10:00 pm
The Hottest Standup Comedy Showcase Comes to Cafeteria on Newbury
The last Wednesday of every month at Cafeteria features an unforgettable experience combining the most talented local and national comedians, including previous winners of the Boston Comedy Festival, acts that have been on Conan, Jimmy Kimmel, Late Night with Steven Colbert, Comedy Central, Sirius XM and more.
Not only is this show completely free – you can enjoy free drink samples from our sponsors* (that's right – free alcohol!), $5 burgers, and a custom drink menu full of cocktails available exclusively during the show – if it seems too good to be true, Cafeteria invites you to come see for yourself
Doors open at 7pm, the show begins at 8pm – previous shows have packed to capacity, so while this event is not ticketed, we do recommend arriving early to reserve a seat.
Aug
10
Sat
Sweet & Savory Travel Cake Class @ Grill 23
Aug 10 @ 11:00 am – 1:00 pm

Learn how to make your very own sweet and savory travel cakes, cakes that stay moist and travel well, with Executive Pastry Chef Valerie Nin!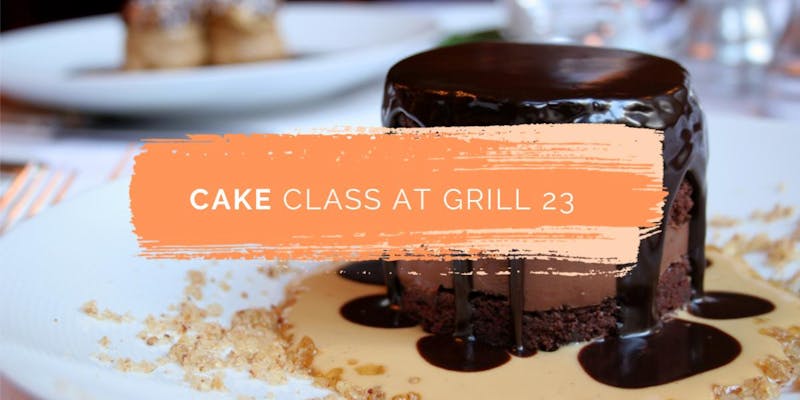 Join Grill 23 for an intimate two hour class where you'll prep, bake and decorate vanilla buttercake and cornbread. Optional additions of fruit, sweets, jalapenos and cheese will be available for that extra touch. Also learn how to make lemon royal glaze and chcocolate glaze. Finally, enjoy your creations with tea and coffee (or take them home) during their fun Q&A .
Alcoholic beverages will be available for purchase.
Tickets are limited.