Apr
28
Sat
The Art of Pairing at Bauer Wine and Spirits
Apr 28 @ 4:30 pm – 6:30 pm
Join Bauer Wine and Spirits for the Art of Pairing
On Saturday, April 28, Bauer Wine and Spirits will be hosting the Art of Pairing from 4:30-6:30 P.M.
 Art is all around us, it just depends on what inspires you. What makes your mouth water on a cold bomb cyclone day in Boston might not be appealing at all on a hot July Sunday on the Cape. Just as weather impacts your appreciation of a meal, your choice of beverage can take a meal from good to great, or even from great to extraordinary. The Art of Pairing is an educational piece where you can learn the key to a successful meal–the passport for a beautiful harmonious marriage between food and drink. We will be serving Tenure Peach Fizz with smokey pulled pork sliders, Garden Punch- a Rosemary Rhubarb Lemonade, with cornbread, and a Coldbrew martini served with Pecan Pie!
For more information about Bauer Wine and Spirits, please click here.
Mar
20
Wed
Social Media Seminar at Joe's American Bar & Grill
Mar 20 @ 8:00 am
Learn from industry leaders how social media can help you successfully build your business.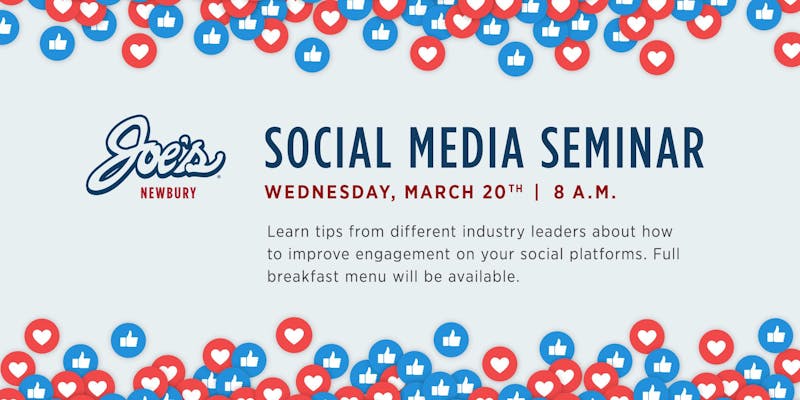 PANEL SPEAKERS
Hannah Huke, Marketing Director of the Briar Group
JQ Louise, Lifestyle Influencer and Fork Lift columnist at the Boston Herald
Lauren Metter, Founder of Metter Media
SEMINAR SCHEDULE
8 a.m. | Registration
8:30 a.m. | Panel Begins
9:15 a.m. | Networking
10 a.m. | Event Ends