Nov
29
Thu
Winter Holiday Fashion and Blooms at Trunk Club
Nov 29 @ 6:00 pm – 9:00 pm
Join Alice's Table and Trunk Club for an evening of fashion, floral arranging, and fun!
Learn the art of flower arranging for your holiday table, explore all that the Club House at Trunk Club Boston has to offer! Get your holiday fashion vibes going with this beautiful event with cocktails, bites, flower arranging and fashion!
The flower arranging can take anywhere from one to two hours, depending on the complexity and format of the arrangement. Alice's Table provides aprons for you to wear for the duration of the event. Working with flowers can be messy, so make sure to wear something you won't mind getting a little dirty.
You don't need to bring anything out of the ordinary with you – we provide the flowers, vases, and tools you will need to create your arrangement.
Trunk Club is a Nordstrom Company that delivers style to your door. You can also meet a stylist at one of their amazing clubhouses! Trunk Club stylists are men and women who understand that the right wardrobe can help you land the job, feel more confident, or simply free up time for more important things than shopping. And yes, they're real people—you can meet your stylist at a Clubhouse!
Purchased tickets but something came up? You can transfer your ticket to another class as long as you contact us at least 48 hours before the event. Please note we do not offer refunds per Alice's Table's refund policy.
To learn more about Trunk Club, please click here.
Mar
20
Wed
Social Media Seminar at Joe's American Bar & Grill
Mar 20 @ 8:00 am
Learn from industry leaders how social media can help you successfully build your business.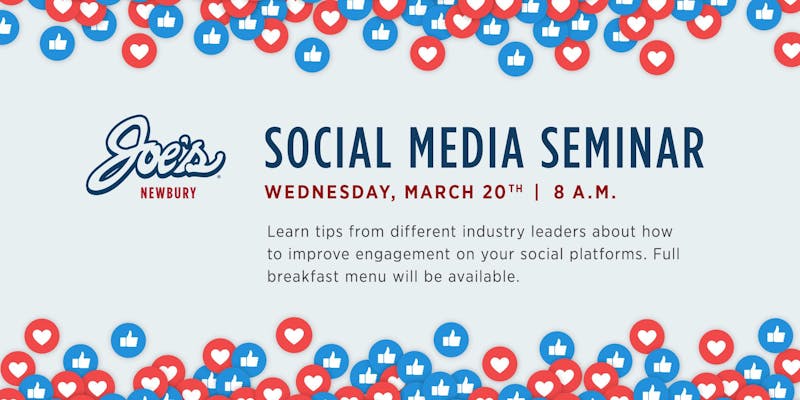 PANEL SPEAKERS
Hannah Huke, Marketing Director of the Briar Group
JQ Louise, Lifestyle Influencer and Fork Lift columnist at the Boston Herald
Lauren Metter, Founder of Metter Media
SEMINAR SCHEDULE
8 a.m. | Registration
8:30 a.m. | Panel Begins
9:15 a.m. | Networking
10 a.m. | Event Ends