Dec
15
Sun
Carly Copley's Birthday (& Retirement) Party at the Fairmont Copley Plaza
Dec 15 @ 1:00 pm – 3:00 pm
Say farewell to Carly at her retirement party, and welcome Cori Copley to the Fairmont Copley Plaza family!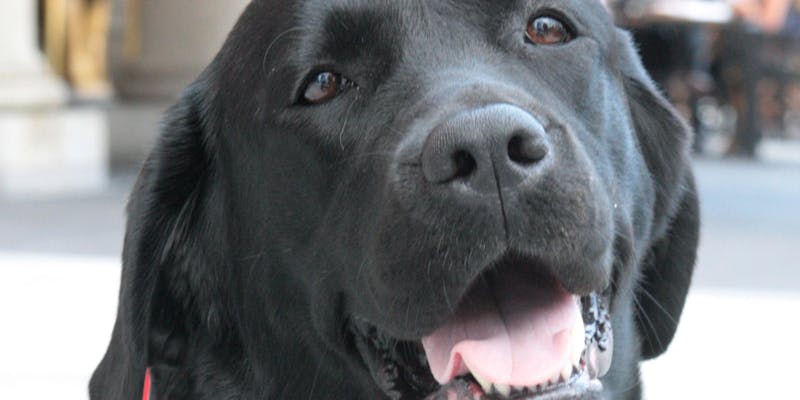 Fairmont Copley Plaza's annual puppy party returns on Sunday, December 15, at 1:00pm. The pet-friendly hotel invites guests to celebrate Carly Copley's 9th birthday, and say farewell as she embarks on retirement. Carly had a successful six-year career in hospitality, providing lovable service to travelers from all over the world. Now it's time for her to sit back, relax and enjoy life at home with her caretaker, doorman Michael Eades, and his family.
The hotel's new Canine Ambassador, Cori Copley, and her caretaker, concierge Joe Fallon, will make an appearance to toast her good fur-friend, Carly. This is Cori's first community event, and she can't wait to meet everyone! She is a two-year-old black Lab adopted from the Guide Dog Foundation, the same organization the hotel partnered with to adopt the famous Catie Copley back in 2004. Representatives from the Foundation will share remarks, and offer a brief guide dog demonstration for those in attendance.
Hosting the party for the third year is Vanessa Welch, anchor for Boston 25 news. She will read "Catie Copley" to guests, which will be followed by cake (for humans) and special snacks for Cori and Carly's canine friends.
This beloved holiday tradition is free and open to the public.
In lieu of gifts, Fairmont Copley Plaza invites guests to bring a donation for the canines training at the Guide Dog Foundation's headquarters in Long Island, NY, where Cori was born and adopted from. They gratefully accept items like fleece blankets, baby wipes, and canned green string beans. Please visit here for the foundation's wish list, and to reference donations they *cannot* accept.
*This is a dog-friendly event. Dogs must be on leash.

Dec
16
Mon
Holiday Bacchanal Dinner at the Fairmont Copley Plaza
Dec 16 @ 6:30 pm
Toast the holiday season with a lavish five-course Holiday Bacchanal Dinner in Fairmont Copley Plaza's historic lobby.
Join the Fairmont Copley Plaza on Monday, December 16, 2019 at 6:30 p.m. for Boston's most luxurious affair where guests dine underneath the hotel's magnificent ceiling murals, and indulge in a special menu and wine pairings from Executive Chef Laurent Poulain. The 107 year-old lobby is dramatically transformed into an elegant ambiance only once a year for this exclusive dinner party.
Cocktail attire is suggested.
MENU
Warm Local Oyster
mascarpone white leek cream, crispy leeks julienne
Pairing: Ayala Brut Majeur NV
Buckwheat Blini with Maine Salmon Tartare
micro arugula, lemon crème fraiche, beet syrup
Pairing: Baumard Savennieres
Organic Mixed Mushroom Ragout & North Country Bacon Tart
local fine herbs, lemon truffle vinaigrette, shaved tomme cheese, sherry vinegar aspic
Pairing: Chanson Bourgogne Rouge
Bourbon & Red Wine Braised Beef Short Ribs
maple butter roasted root vegetables, creamy beet risotto, Parmesan pumpkin seeds crisp, pop corn shoots, bulls blood micro greens
Pairing: Saintes Pierre Nalys Chateauneuf du Pape Rouge
Rum Raisin Tapioca Pudding
caramelized pineapple & vanilla bean sauce, chantilly cream, almond lace cookie
Pairing: La Fleur Renaissance Sauternes
For more information on the Fairmont Copley Plaza, please click here.