Nov
16
Sat
Little Women Tea Party at the Boston Public Library
Nov 16 @ 3:00 pm – 4:30 pm
Join the Boston Public Library for a tea party in celebration of the 150th anniversary of the book Little Women and the upcoming movie!
In celebration of the upcoming Little Women movie, as well as the 150th anniversary of the book's writing, Little Women fans are invited to "meet" Louisa May Alcott, watch clips from the film, enjoy tea and scrumptious snacks, and talk about their love of Little Women. The executive director of Orchard House, where Little Women was written and set, will share stories about the making of the upcoming movie. Attendees are encouraged to dress in period costume. Raffle prizes include a visit to Orchard House and a ticket to Boston by Foot's Louisa May Alcott walking tour.
Doors will open at 2:45 p.m. If something happens where you can no longer attend, please kindly cancel your registration so that someone else may attend. Please reach out to programs@bpl.org with any questions.
For more information on the Boston Public Library, please click here.
Nov
20
Wed
Wine Tasting at the Charlesmark Lounge
Nov 20 @ 6:00 pm – 8:00 pm
140 Supper Club Dinner: FRIENDSGIVING at Fairmont Copley Plaza
Nov 20 @ 7:00 pm – 10:00 pm
Join the Fairmont Copley Plaza for an early stress-free, potentially family-free (unless you decide to invite quirky Aunt Linda), and fun Friendsgiving celebration.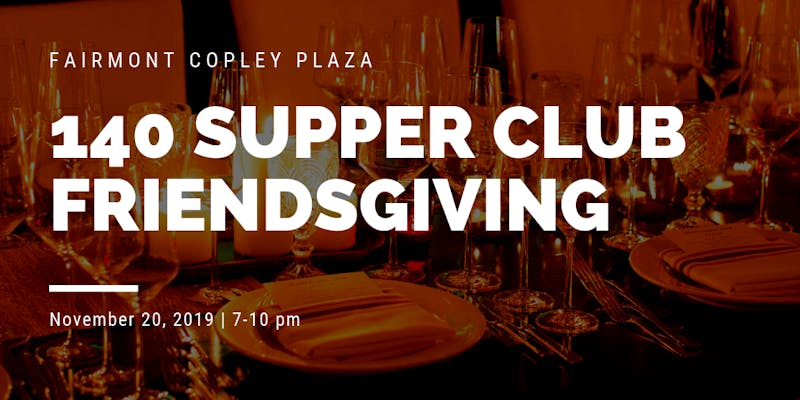 Let's celebrate with a delicious Thanksgiving meal where you let the Fairmont's kitchen do all the prep work, cooking, and cleaning. Try new wine pairings that may bring you inspiration for that perfect wine gift to bring to your "real" Thanksgiving dinner. Come share food, friendship, and thankfulness with the Fairmont and kick off this year's holiday season.
The five course dinner is part of Fairmont Copley Plaza's popular 140 Supper Club series where guests descend a century-old staircase and whisper a password to be immersed into a themed, intimate dining experience hosted by Executive Chef Laurent Poulain.
MENU
Smoked Duck
pistachio and foie gras pȃté, confit pickled shallots
Pairing: Ponzi Tavola Pinot Noir
Cauliflower "Mac" Casserole
north country bacon, vermont smoked cheddar
Pairing: Wente Family Estates Riva Ranch Chardonnay
Baby Greens and Cucumber Wrap
roasted butternut squash, sweet and spicy pumpkin seeds, goat feta, cranberry tarragon and grainy mustard vinaigrette
Pairing: Four Graces Pinot Gris
Apple Cider Brined Grilled Turkey Cutlet and Leg Confit
roasted brussels sprouts and baby carrots, caramelized organic mushrooms, corn bread and brioche stuffing, sage turkey demi-glace, fine herbs
Pairing: Bonny Doon Grenache
Gingersnap Apple Crisp
cream cheese and walnuts, pumpkin ice cream, apple chip
Pairing: Trefethen Late Harvest Riesling
Nov
21
Thu
Room in Your Heart Kick-Off Celebration
Nov 21 @ 6:00 pm – 9:00 pm
Kick off the most wonderful time of the year with The Lenox and First Lady Lauren Baker, benefiting the Wonderfund.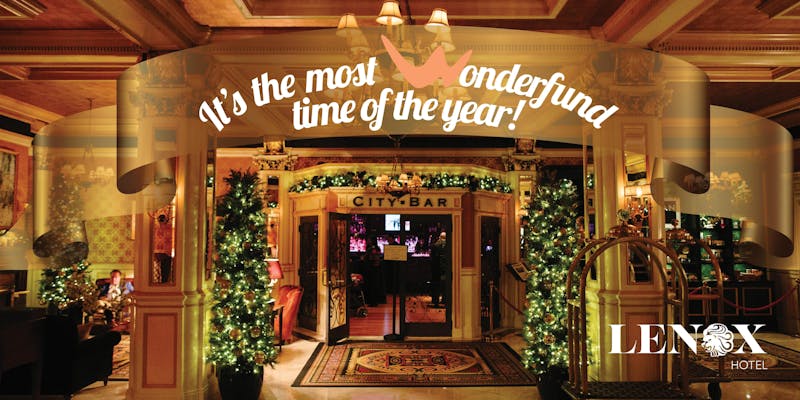 Please join The Lenox on Thursday, November 21st from 6-9pm to celebrate the launch of their annual Room in Your Heart to benefit the children served by the Wonderfund, hosted by First Lady Lauren Baker.
Enjoy tasty treats by Executive Chef Sean MacAlpine, as well as crafted cocktails and entertainment by Jimmie Espo of 617 Weddings.  
EAT, DRINK AND BE GIVING!